Our cores are manufactured from 100% recycled High Impact Polystyrene. We have our own in-house recycling facility where we granulate and reprocess plastic from sources such as old fridges, sandwich packaging, coffee cups and manufacturing waste. These items would normally go to a landfill site.

By recycling in-house we can ensure that the material used to manufacture our cores is the same quality as virgin plastic. Using recycled material also helps reduce our impact on the environment. Our cores can be recycled once they have reached their end of use.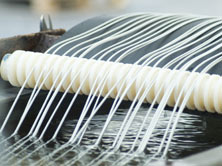 Extruded strands of decontaminated polystyrene being cooled in a water bath before being chipped ready for the moulding process.